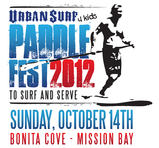 Join us
Sunday, October 14th
for the
Urban Surf 4 Kids-PaddleFest 2012!
Event will include Stand Up Paddleboard (SUP) Racing, live music, board demos, kids corner, food/vendor expo & an awesome prize raffle (grand prize is a new SUP Board autographed by big wave legend Dave Kalama!)
Race course features:
Elite Course: 6 mile race (3 laps) for experienced paddlers, prizes for the winners
Short Course: 2 mile race (1 lap) for experienced paddlers, prizes for the winners
INTRODUCING OUR HEADSUP BATTLE RELAY! If you're new to the sport of paddleboarding, make sure to checkout our 2-person, head-to-head relay battle with bracket-style elimination! Two races guaranteed and prizes for the winning team! (Boards & paddles provided at event for this race)
Sign-up today to get early-bird pricing!
Additional racer perks include a 1 week free yoga pass, free on-site massages, free entry to surfing museum, event t-shirt, schwag bag, awards ceremony, guest appearances from professional athletes and more! If you know of anyone interested in sponsorship opportunities, we are still accepting vendors and applicants.
Click here for more information.
Register Today
Oct 15 2012 at 00:00
Category

Time

Oct 15 2012 at 00:00 - Oct 15 2012 at 06:00

Location

Event Admins