5th Annual Rincon Beachboy SUP Race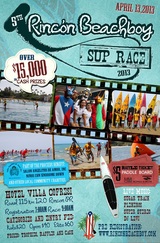 Be ready for the largest SUP event in Puerto Rico!!!
Date: Saturday April 13, 2013
Venue: Villa Cofresi Hotel, Road 115 Km 12, Rincón, Puerto Rico
Sign up: ONLINE until 6pm of April 12, 2013 or at the event until 8:30 AM.
Race starts: 9:00 AM
More than $15,000.00 in cash prizes for the Elite classes.
Great party, live music, raffles & LOTS of goodies for competitors.
The great raffle prize: Melvin & Morelli Stand Up Paddleboard 14ft.
Part of the proceeds of this event will benefit local Rincon charities. :)
Visit our website for more info & pre-registration:
www.rinconbeachboy.com
Apr 13 2013 at 23:00
Category

Time

Apr 13 2013 at 23:00 - Apr 14 2013 at 07:00

Location

Event Admins