Groups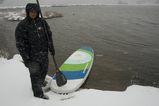 32 Discussions

0 Wall Posts
Here is where all the discussion of everything general about stand up paddling takes place. Want to talk sup but don't know where to start, then here is the place to get your sup talk going.
Category: General

Created

: Tuesday, 01 March 2011
Created on: Sunday, 30 October 2011

Discover the joys of SUP on the Eastern End of Long Island!!! Guides to the numerous local flat water ponds and waterways and get local information on best SUP surf spots. Main Beach Surf & Sport in Wainscott will be hosting an adventurous series of tours, moonlit paddles and RACES for the 2012 season. Get in shape, meet other SUP lovers and get on board to find out what you need to SUP the Hamptons all year long!

11 Discussions

2 Wall Posts

Created on: Friday, 28 October 2011

Long Island SUP professionals have turned out a bumper crop of new SUP'ers this year and that number is expected to increase as the word gets out about how great and easy a sport it is! Sirens of the South Shore (also a page on FB) is looking to provide a forum for veterans and newbies alike to connect for SUP adventures, promote their favorite SUP professionals, compare/discuss equipment, and share favorite locations! All are welcome (North...

1 Discussion

0 Wall Posts

Created on: Monday, 17 October 2011

For SUP fans in Riverside County and the surrounding areas that can't get all the way to the beach to paddle. Paddle Lake Elsinore! Flatwater paddle the largest, natural freshwater lake in Southern California. 14 miles of shoreline. Like to fish, but don't have a boat? Fish the lake from your SUP (fishing license required).

1 Discussion

0 Wall Posts

Created on: Friday, 30 September 2011

Stillwater Cove and beyond, Monterey Peninsula SUP group. Standing standup mtg is beach club @ 8 am thursdays. Or when sun and waves say time to go now... First timers encouraged, Angulo boards available http://angulodesigns.com/local/gurage/andys-gurage/ Aloha & Mahalo

Created on: Thursday, 08 September 2011

3115 Harrison Ave South Lake Tahoe, CA 96150 530-416-4829 We offer all everything you need or want within Standup Paddle (SUP) We have SUP paddleboards for sale, rent. We offer professional instruction and service for any level of client. We also offer Yogi classes to people looking to workout in beautiful Lake Tahoe.

0 Discussions

0 Wall Posts

Created on: Friday, 02 September 2011

Dedicated to Men & Woman who love bringing their family & friends together through this amazing unifying sport where they can share the Ohana Spirit! Please share everything related to Stand up Paddle and Family Fun!

2 Discussions

0 Wall Posts

Created on: Thursday, 11 August 2011

This group has been created to nominate and vote for the SUP Woman of the Year 2011. Please post pictures and a description with any nomination. If you have not voted on Facebook or Twitter, please indicate here in the comments section which SUP Woman you would like to vote for. Make sure to go to the SUP Woman of the Year page on SUP Connect for descriptions of all nominees. http://supconnect.mylocallineup.com/SUP-Women/...

1 Discussion

0 Wall Posts

Created on: Wednesday, 10 August 2011

Elder is as much about wisdom and awareness as it about age. From the perspective of our Standup boards - and from a certain set of decades, we see things more clearly. We have more impact and more responsibilities. Elder SUP is a blog of stories, caring for our earth's waters and sharing a love of those waters via SUP fun with the youngest generations. Take a look at our blog, your stories will make it better. http://eldersup.wordpress.com

0 Discussions

0 Wall Posts

Created on: Monday, 08 August 2011

The popularity of SUP boarding has been building here for a couple of years. With about 60 miles of coastline thats no surprise. The island provides plenty of variety and offers many safe locations for visitors and beginners, through to great surf breaks and very challenging coastal geographies. We have a weekly session on Thursday evenings, led by Aaran Williams from Earth Wind Water. Demo boards and paddles are available to try...

Created on: Saturday, 06 August 2011

Group for all paddlers in Michigan. Share your favorite destinations, photos and any other cool SUP stuff!

Created on: Friday, 29 July 2011

Aloha NJ Sweepers! We hope to use this group (and the one on Facebook) as a virtual community for folks to post paddle trips, questions about gear, technique and places to sweep! Our goal is to provide opportunities for sharing knowledge and fun, online and on the water in and around the state of NJ.

0 Discussions

0 Wall Posts

Created on: Monday, 27 June 2011

Spend your summer in Cabo Mexico SUP surfing. Learn tips from Colin McPhillips. For more info contact us supmexico@gmail.com

Created on: Wednesday, 22 June 2011

For all who like to spearfish from a SUP.

Created on: Wednesday, 22 June 2011

Information on all things SUP along the Turkish Coast.

1 Discussion

0 Wall Posts

Created on: Saturday, 11 June 2011

San Francisco Bay Stand Up Paddling Gateway. Info on SUP gear, spots, races, classes, and board demo events.

Created on: Tuesday, 07 June 2011

This group is for stand-up paddlers/stand-up surfers from the Northern California area including Humboldt, Mendocino and Del Norte counties.

5 Discussions

0 Wall Posts

Created on: Friday, 03 June 2011

A place to help spread the SUP love north of the border and over on the rock. We have awesome down winding, SUP surfing, and race potential... just a little chillier in the winter, but that won't stop us!

1 Discussion

0 Wall Posts

Created on: Wednesday, 25 May 2011

Please visit www.AlexLinnell.com for all the information on donating to the American Red Cross and for information on tracking me throughout the trip! Alex Linnell, who will be the first person to ever stand-up paddle (SUP) the length of the Mississippi River, begins his trip June 1, 2011 from the headwaters at Lake Itasca in Minnesota. Best estimates make this trip between 60 and 90 days long (duration depending on water depth and current...