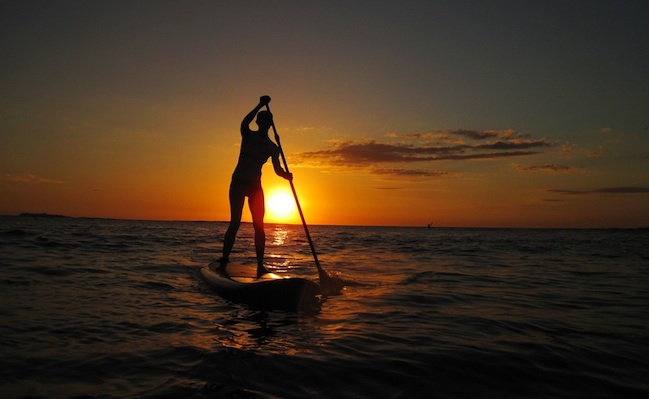 Photo submitted by Smieja Nate
SARASOTA, Florida - Have you ever wanted to move beyond flatwater stand up paddling and get into something a little more challenging and fun, but simultaneously have some real fears, concerns and lack of knowledge/experience to be able to make it happen on your own? If yes, then these notes which will post each week for several weeks to come will be extremely helpful and motivating.
Follow Karla Gore on her incredible real life journey from Flatwater to the open ocean and beyond. It also helps that her husband/coach is an accomplished stand up paddler and surfer, Aaron Pollard. Together they will bring you some incredible information!
Moving On from the Flatwater - Week One Notes by Karla Gore
This is where I am. For the longest time, my paddles consisted of nice backwater paddles---with manatees and dolphins, ospreys and eagles. But, about two months ago, I started to get kind of bored with that. I still find it beautiful but I kind of wanted something more. I wanted to test my skills and challenge myself. SO.....I have signed up for the SURFit USA training program.
My original goal: Paddle the Molokai Channel in 2014. And, now after a few paddles into the wind and waves, I realize that I might need to take an honest look at my worries and limitations and move forward with baby steps. It helps (and kind of hurts) that my coach, accomplished stand up paddler and surfer, Aaron Pollard, is also my husband. He can guide me through the process but he also understands my fears tries to push me through them.
At this point, I am looking at my strengths: 1) I paddled outrigger canoe for years, always the stroker. I have good technique and understand the basics, 2) having run three marathons and numerous half marathons, I know I have the endurance and mental toughness needed, 3) I really want to do this. I want to be a good role model for my kids and I am super competitive with myself, and 4) I have a great coach.
My weaknesses....1) I am afraid of waves. I used to surf but was never very good. Too many nose dives took the fun out of it for me and I just gave it up. I am afraid of being turned into the wave the wrong way. I am just afraid of waves. 2) I get scared of little things you know, boats, big fishes surprising me, and currents. I know that all of these things(except currents) are mental and I can talk myself through them but once my brain gets going…it is hard to stop it.
The last couple of days, Aaron and I have been working on getting time on the water. With no real requirement except the daily paddles must not be flatwater. Stand Up Paddlers know the only way to get better at paddling is to spend time on the water. The more you are out there, the more comfortable you get.
We are actually seeking out the wind and the waves and I am working on going out through the surf and paddling upwind. If you are looking for the real SUP workout, that is where it is. And, the feeling of turning around to go back downwind is awesome. I am actually still feeling the effects of the downwind portion a few hours later. For those of you experienced surfers and SUPers, you already know this. But, there are a bunch of us newbies who want to move on from flatwater and the ocean is a whole different thing.
How to Get Started:
Aaron, my coach keeps emphasizing time on the water (TOW). ·Me, in my inherent stubbornness, keep telling him that I am ready to progress from there. ·I have put in my TOW. ·I want to move on......However, this week I realized he was right. ·Just because we are doing paddles for TOW--not endurance, not technique, not drills--I am still progressing. ·The water is different every single day and the way the board and I react to the changing conditions is something to figure out. ·I am getting better by just being out there---learning how my board handles. ·I am getting more and more comfortable as the waves and wind kick up--I am learning to fall and not worry about it.
Another thing I have been doing is using different boards---really trying to figure out which board works the best for me. And, honestly, that has been a great lesson. Usually, I am fighting to not have to use the 10'6" NSP SUP Surf board--thinking it is too small, too surfy or just not right for me. But, this week I found that it is my favorite board! My stubborn attitude loses again. Maybe someday I will learn to just listen to my coach.
Here is a sample week that you might want to copy to get your base down. We work for time, not mileage because it is easier to keep track of (just a watch) and it allows you to account for wind, waves etc. If you have ever run marathons or done any kind of endurance sport, you can see similarities in the training regimen.
Monday: 45 min SUP winds moderate, intensity light & SUP Pilates class (great for core
Tuesday: SUP Yoga (great cross training! If you can get into yoga poses on your board it makes it easier to move around on the board when paddling.)
Wednesday: 45 min SUP winds: light, intensity: medium
Thursday: Rest Day (This is a busy day in my week so it is the rest day. You can adjust this to fit your own schedule.)
Friday: 30 min SUP winds moderate, intensity moderate
Saturday: 2 hour SUP with kids on flatwater with lots of breaks. Very low intensity. Light
Sunday: Cross Train: Ocean Swim ½ mile, Practicing Breath holding for free diving.
If you pay close attention, you will see there are really only four days of paddling here and one of those days is a long but very low intensity paddle. Riding Bumps, lots of endurance running programs and my coach stresses the importance of a very easy day. So, my Saturdays are usually relegated to a long paddle with the kids--which consists of lots of breaks and very leisurely paddling.
Check back next week and I'll let you know how the week progressed!
.