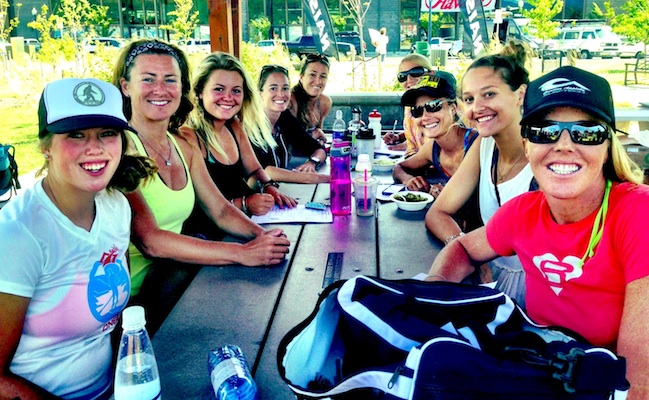 The scene in Hood River, Oregon when many leading ladies of SUP put their heads together to discuss major topics in SUP.
HOOD RIVER, Oregon - Recently many of the top female stand up paddlers in the world gathered together in Hood River, Oregon. They were already coming to the area to participate in the Columbia Gorge Paddle Challenge and while there decided to put their heads together and discuss some major topics specific to stand up paddleboard racing, SUP growth and how women are experiencing the sport.
More specifically, there has been a lot of talk lately about prize money inequalities for men and women, what type of boards women should be racing, what drafting rules should apply (if any at all) and how race starts are structured.
It should be noted that many of the public discussions that have taken place so far concerning the aforementioned topics have been led by men, so below are the perspectives of several women who are leading the charge as the athletes who truly deal with the issues at hand. It was their objective to discuss various experiences and work together to see what can be done to make SUP better now and for the future.
Enjoy the quotes below and gain a great perspective as the women speak out.
Introduction:
"The Columbia Gorge Paddle Challenge was such a great time and place for the girls to get together. Next to the BOP (Battle of the Paddle), this race has one of the deepest fields of talented women. Although there were a few key players missing, this was a solid group of passionate women. It was all too fitting being that Steve Gates (event director for the Gorge Paddle Challenge) went above and beyond to highlight the women at his event." -Candice Appleby
Participants: Women who participated in the discussion
Andrea Moller: 2x Molokai2Oahu Champion, EMT, Mom

Candice Appleby: 4 x BOP Champion

Fiona Wylde: 2013 Gorge Paddle Challenge Overall Champion, SUP Fiesta Race Champion 2013

Gillian Gibree: Waikiki Paddle Fest Champion and SUP Yoga Guru

Jenny Kalmbach: BOP Champ, Molokai2Oahu Champion

Judy Shasek: Founder of Elder Sup, Open Class Racer and SUP Enthusiast

Karen Wrenn: Catalina Challenge Champion, Mom

Lina Augaitis: Top Female Canadian Racer, 2013 Tahoe Nalu Distance Champion

Nikki Gregg: White Water Sup Champion and SUP Fitness Guru

Sofia DeWolfe: 4th Sup Fiesta Junior Pro Sup Surfing, Top Young Female Racer in US

Talia Gangini: Molokai2Oahu Champion and record holder

Mariko Strickland: First to paddle the Peruvian Amazon and Olukai Ho'olaulea Champion
Topic 1 - Prize Money
There has been much debate over whether men and women should receive equal prize money from stand up paddle races. The amount paid has sometimes been equal, but more often than not women have received less prize money after completing the same courses under the same conditions. Some argue that prizes to men and women should be equal no matter what, while others feel that pay can not be equally distributed because more men are typically participating in events which often drive and control revenue at SUP races. However, this theory assumes that prize money is being paid out from the cash received by race entry fees, yet this is not always the case. Sometimes sponsors are the primary source of giving prize money which can drastically change theories and arguments on the topic. Another opinion suggests that money paid to winners should reflect the industry as a whole and if for example there are just as many women paddling in the world as there are men, then races should pay equal prize money to men and women.
The ideas mentioned above are just a brief sample of the opinions and ideas regarding this topic. To read more in depth opinions regarding equal prize money for men and women in SUP races click here: Opinions About SUP & Equal Gender Prize Money
Interesting Note: The opinions listed below from the elite female SUP racers regarding prize money for men and women essentially come to the same conclusion and are unified.
"I believe that the prize money should be equal. If they want to pay deeper into the men's field, I understand but we train just as hard, pay the same expenses, race the same course, so it's not fair if we get less. I also believe prize money shouldn't come from registration fees it should come from sponsors. This is important to help build the sport and the future of SUP racing, especially for the women. More women will be interested if they feel they are treated equally." -Jenny Kalmbach, 30, Kona, HI

"Equal prize money means equal recognition which will allow the sport to grow even more. It will motivate other women, younger girls and female beginners to participate in more events. This will benefit sponsors, events and paddlers overall." Andrea Moller, 33, Maui, HI.

"In order for our sport to be sustainable for the female athletes that are pushing at least half the market, we need to be compensated. To say our performances hold any less value than that of our male counter parts is offensive. There are some races that have recognized the true value of the female athletes and have awarded us accordingly and there are others that still have not. We need to encourage the next generation and prove to young girls that there is just as much a future profession in SUP as there is for the young aspiring boys. We should not only be treated equally, but as though we are all unique and valuable." –Candice Appleby, 27, San Clemente, CA.

"Prize money should be equal. When it's not equal, they're sating that women are not as important. We work just as hard and pay the same expenses. We want to be able to inspire the younger generation because that's going to determine where the sport could go." Talia Gangini DeCoite, 20, Maui, HI.

"The same amount of prize money should be given for men and women. If there are more women, distribute the prize money deeper into the field and vice-versa, but still equal for the top places. " Fiona Wyle, 16, Hood River, OR

"It is encouraging that even our male counter-parts support equal prize money. We are aware that more men typically enter races than women, but when you look at the competition within each gender, the depth of talent is quite similar. Thus, a dominant driving force in the SUP market is in fact women buying stand up paddle boards. Perhaps the discrepancy in race entries can be attributed to the competition branch of SUP being portrayed as a "mans world." I would love to see more companies like Olukai stepping up to fund an equal prize purse event to show the value in our participation."

-Mariko Strickland Lum, 26, Kauai, HI.

"The girls are reaching out to a bigger audience. We race the same course, often on smaller boards, so when it's not equal, it's basically saying we're not as important. Money shouldn't come from entry fees, it should come from sponsors." Sofia DeWolfe, 18. Sun Valley, ID

"Equal prize money! Same course, same entry fee, same cost to get there. Women beat the bottom half of Elite Men and even higher a lot of the time." Karen Wrenn, 41. Portland, OR.

"Prize money should not come from entry fees. When the prize money is less, there is less motivation. Racing the same course and training just as hard should mean equal prize money." Nikki Gregg, 38. Hood River, OR

"I think the fairest way to handle prize money is to allot the same amount for men and women for the top 3 podium spots and then vary the depth of prize money according to the size of the field which may vary between men and women." Lina Augaitis, 32. Vancouver, BC. Canada

"The lead/elite athletes who drive the purchasing power of a huge population of non-competing women, need to be able to earn enough money to have the cash/time to train as a professional, to lead continue to lead and inspire a population of all age women." Judy Shasek of Elder SUP, 64, Bend, OR

"Prize Money Should be closer to the men's purse. I understand if it can't be equal-but when the men's 1st place is 5K and women's is 1k, that is not fair. Women work just as hard." Gillian Gibree
Topic 2 - Board Class
There has also been a lot of talk in the SUP racing scene about board size and what men and women should be racing. Some feel that the industry should standardize the sizes used for specific races and that the same board size should be used during both days of a 2 day event. There are advantages and disadvantages to using different board sizes and preferences can vary depending on what type of race is occurring. For example a six mile flat water course could warrant a very different board than what is used in an open ocean downwind race. Generally speaking, the longer the board, the faster it glides across the water.
Interesting Note: The elite women had a variety of opinions regarding this topic.
"For elite races, the women should be on the same boards as the men, no matter what the race is. It doesn't matter what size; 12'6'', 14', Unlimited, as long as everybody is equal. I would also prefer to use the same board of multi-day events." -Fiona Wylde

"There needs to be one board class per event- 12'6 for women. Most people cannot afford to ship two boards to events, and it's very confusing when the event directors change their minds on classes days before a race. Keep things simple." -Gillian Gibree

"Each event should have its own "face"; flat water, surf, distance, short/long. This will determine the type of board that should be used. I don't mind either ways as long as it is the same (equal) for men and women. Let's allow all the board classes to grow." -Andrea Moller

"There needs to be a standard size for races, except for specialty races. I would like to see the industry standard move to 14' for women." -Nikki Gregg

"I honestly don't care what length women paddle but I do want it to be standardized for short course and long course races to avoid confusion, frustrations and having to travel with many different length of boards. I would prefer it to be the same board length as men as in all the local races I paddle the 14ft board in order to race equally with the men." -Lina Augaitis

"I'd prefer to race 12'6'' over 14' but I don't really mind as long as the board size/class stays the same for both days. It's difficult to travel with multiple boards to one race. Some races like the Molokai to Oahu or Olukai and other ultra distance races will require speciality classes. " -Jenny Kalmbach

"Put us on the same boards as the men are on at that particular race. Sometimes it will be 12'6'' and sometimes it will be 14'. This is great for the sport, for board manufacturers and to increase the athlete versatility." -Candice Appleby

"Same board for both days. I'd prefer 12'6'' for most races with the exception of specialty races such as Olukai, M2O and other channel crossings and/or downwind events." -Sofia DeWolfe

"Same board for the whole weekend." -Karen Wrenn

"Course racing & flat water distance, 12'6''. Hawaii open ocean downwind, 14' or unlimited. Since the female field is relatively condensed, I like the idea of having us all paddling the same board size. For example, at the Naish Gorge race we were all on a 12'6, which made traveling logistics simple and it created equal playing fields amongst all the women." -Mariko Strickland Lum
Topic 3 - Race Start Structure
Currently many SUP races are using a combined male and female race start format. While this may work out fine in smaller races, there can be large problems that occur in major championships. Often times men who race at a more intermediate level will find themselves in the middle of an elite pack of women at the beginning of a race, but their lack of expertise (as they are "intermediate" paddlers) can result in a lot of unnecessary board bumping and collisions that may cause an elite woman to lose her entire race right from the start.
Interesting Note: All the women quoted below agree that they should have separate race starts from the men.
"Separate races, and starts where women go first, will only encourage more female competition, which is what everyone wants. I think that the elite guys won't mind getting a chance to watch the women race and vice versa. I'm a fan just as much as competitor." –Candice Appleby

"Women should get our own race start on course races.

In distance races, women should start at least 7-10 minutes before the men, that way women aren't hindered by as many guys."- Fiona Wylde

"Women should have a separate races, especially for course racing. If there isn't enough time for a separate race, we should definitely have our own start. For distance races we should start ahead of the men at least 5-10 minutes." -Jenny Kalmbach

"Separate race. We need to get our own race. If not, girls should start first, at least 5-10 minutes." -Sofia DeWolfe

"Women should have their own races in a course style and start at least 5-10 minutes ahead of the men in distance races." -Karen Wrenn

"For course races I prefer separate races for men and women or at least staggered starts. This is for the benefit of both genders." -Mariko Strickland Lum

"I fear that if we start separating men and women too much, the sport will start changing to "SUP men" and "SUP women", as two different events - which won't be good for anyone. I believe that men and women together give an overall power to the sport, as well as to each other.

I am ok with different start times for men and women but want to keep men and women coming to the same races because at the end of the day we are stronger together." - Andrea Moller

"I prefer a separate start from the men,

but maybe even our own race. If the start is staggered we could start 5-10 minutes before the men." -Nikki Gregg

"I think women should start at a different time then men for short course races. Especially when we are on different board lengths. We get stuck beside or close to the slower less experienced men on 14ft boards and it causes us to change course or deal with their maneuverings when we are not even in their race." -Lina Augaitis
Topic 4 - Drafting
Drafting is a technique used in various sports (such as cycling) which allows the person drafting to use less energy to maintain the same speed as the person in front of them. It takes skill to draft in stand up paddling and obviously the advantage goes to the person(s) behind the leader. The issue at hand with SUP racing is that sometimes women draft women and men draft men, but also sometimes women draft men and men draft women which can create a large variety of advantages and disadvantages. Also, when people are paddling different board sizes and draft one another there are another set of advantages and disadvantages involved. Some racers think that drafting anyone at any time is acceptable while another side feels that it should only be done with etiquette, and that it should be allowed among racers of the same gender using the same board size. Others prefer to have no drafting at all.
Interesting Note: The female elite stand up paddlers quoted here have a variety of opinions.
"Depending on the situation in the race, men and women should be able to draft. If men and women are on the same start then I believe it is fair for women to draft men as long as everyone is doing their fair share of pulling the train." -Fiona Wylde

"I prefer no drafting at all, but if its allowed, same gender and same board class and no bumping!" -Jenny Kalmbach

"When there's guys in our way on a course race, trying to avoid them makes it really difficult, especially if they are a slow guy on a 14 and you're trying to pass them because you started a few minutes behind. But, if they're on the course and heading to the same mark, I say use whatever you can to your advantage (given that it is allowed)." -Candice Appleby

"If guys are at the same time as girls, draft whoever." -Sofia DeWolfe

"I hate drafting, period. But if it's allowed then same class, same gender." -Karen Wrenn

"I think it is unfortunate when the racing conditions enable drafting. I can understand drafting the wake of other paddlers at the beginning of a mass downwind start, however, flat water races that create a single file line of paddlers just seems silly and counter-productive for our sport."–Mariko Strickland Lum
Topic 5 - Other Thoughts
Interesting Note: These are final comments and ideas that the elite female athletes would like to share at this time:
"Equal and together. We want recognition not separation." -Andrea Moller

"We don't want to be so separate from the guys, but we want our own recognition, and our own chance at a fair race." -Fiona Wylde

"There are a ton of races out there calling themselves the world championship- when BOP is the biggest race and doesn't have that title. There needs to be an overseeing body that decides which events are part of an official tour." -Gillian Gibree

"Were not trying to be completely segregated from the men, we enjoy the combined events, but we just want our own recognition." -Sofia DeWolfe

"In the age divisions (open races), if they recognize the men, they must recognize the women with the same age categories. This will motivate more women to enter the event and once again, it will grow the sport and the event (and sponsors, etc.)." -Andrea Moller

"The women in our sport are fierce, hard working and determined. We're not going anywhere and the numbers are growing. It's time that our worth is recognized." -Candice Appleby

"Even if women don't compete for prize money, it is important to recognize broad age groups at events, so peers can feel proud. I am 64 and usually race in the 50+, the point for me is to try and do a race that elites do and have fun, but many 60+ won't enter." -Judy Shasek
After reading these opinions, what is your opinion about one or all of the above topics? Please leave your thoughts in the comments below.
.