Supconnect Live Interview on October 3, 2013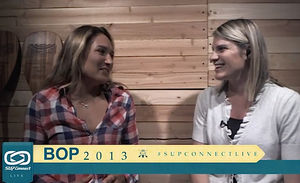 Annabel Anderson (lft) being interviewed by #SupconnectLive
SAN DIEGO, California - Just yesterday Supconnect had the privilege of conducting a live interview with 2013, Double Winning, Battle of the Paddle Champion, Annabel Anderson.
After weeks of planning and anticipation, our team finally got the inside scoop from this amazing "Kiwi" from New Zealand. The webcast lasted about one hour and details of her stand up paddle experiences are shared in this one of a kind post race interview. Insight about her past and present reveal just how dedicated she is not only to her own personal stand up paddle goals but also to the stand up paddle world in general and its future growth.
More specifically, the discussion covered a variety of topics including how Annabel got started in SUP, what a day in her life is like, what kind of diet she follows, specifics on the 2013 Battle of the Paddle races, and finally what she thinks SUP is really all about - and believe it or not, her answer is not centered around winning races!
Enjoy all the footage in the video replay above and please share your thoughts in the comments below.
A special thanks to Annabel for joining our team and sharing in a wonderful time on camera!
About Annabel Anderson:
Home Town: Wanaka, New Zealand

Birthday: July 5, 1981

2013 Battle of the Paddle Elite and Distance Champion

2012 Stand Up World Series Champion

2012 Battle of the Paddle Champion

2012 New Zealand Champion

Currently considered among many as the fastest woman on the water, worldwide.