Event Review by Alex Mauer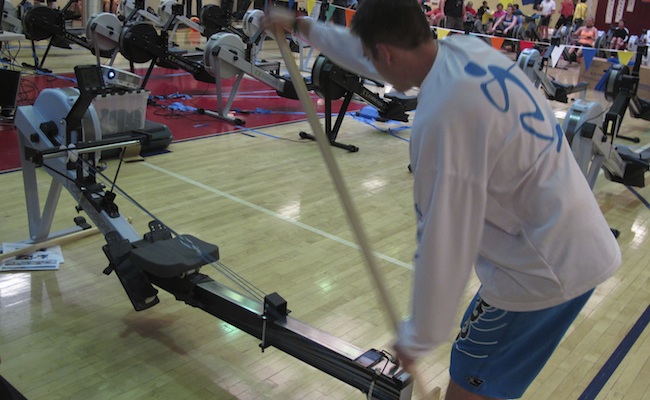 Alex Mauer is seen here taking a stab at the indoor SUP races in Denver, Colorado. Photo by Jonette Albers.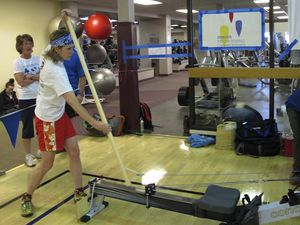 More paddlers take their turn. Photo by Jonette Albers.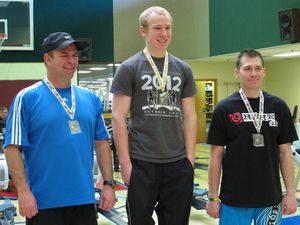 A few of the top finishers. Photo by Jonette Albers.
DENVER, Colorado - Paddling on Stand up Paddle ergometer simulators are a great way to get a quick and convenient paddle workout, especially during the winter when the water is frozen in many parts of the world. What makes this type of indoor SUP even more fun is holding an indoor SUP race!
This past weekend I was able to take part in what I think was the the first ever indoor SUP race. We called it the Denver Indoor SUP Rowing Championships. Jonette Albers, of our local rowing club, organized the event and is always pushing for more SUP events. As a result, the rowing club was kind enough to purchase a SUP hookup for an ergometer which made it possible to monitor the action and compete against one another.
The paddling contraptions were pretty sweet. In simple terms, we used a new pulley system which was connected to the ergo meters. This in turn allowed a cable to rotate making it possible for us to paddle on both sides of the rowing machines. At the base of the machine there was a balance box to stand on. A cable also ran from the box to a computer monitor, where we could watch our paddling stats. If, for example, we tilted to far to either side with our paddle stroke, we would see a red flag on the monitor and our distance traveled would freeze until we were once again perfectly balanced, ultimately adding to the total distance we paddled. The contraptions really were amazing.
The pros:
This indoor SUP race gave me a great workout! It wasn't a very long paddle but man am I sore! The fact that perfect paddle technique was so important to the machines and for performing well in the indoor races could really help us step up our game when it's time to get back on the water. It was a great event for bringing paddlers together while the weather doesn't allow us to be outside. I wouldn't be surprised if indoor events start piping up all over the place!
The cons:
This event was the first of its kind and rules and classes still need to be created. For this event, it might be a good idea to create different weight classes because paddlers have advantages and disadvantages based on their body mass. I feel that paddle technique should also be judged during indoor races and that perhaps poor technique should be penalized in some way just like poor technique on the water puts people at a disadvantage. This will force people to focus on technique and help us prepare for what it's truly like during the outdoor season on the water.
At the end of the day it was a cool event and a great experience, but it also really got me feening for a surf! I'd like to extend a big congratulations to all the competitors who helped pioneer this experience!
Paddle fast and take chances!
-Alex Mauer
.