Standup for the Cure Nears 1,000 Registrants for Saturday's Event; TV Celebrities from The Bold and The Beautiful and JAG Join Festivities.
Stand Up For the Cure Anticipates raising $125,000 to fund 1,000 Mammograms at Second Annual Event in Newport Beach.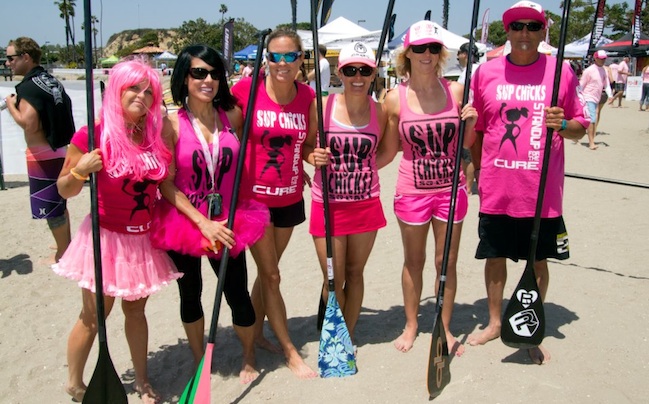 SUP Chicks at StandUp for the cure 2012
NEWPORT BEACH, California – Standup for the Cure's second annual fundraising event this Saturday, May 4 at Newport Dunes in Newport Beach, California is on target to have 1,000 participants support the Orange County Affiliate of Susan G. Komen for the Cure ®. Attending TV celebrities include Katherine Kelly Lang and Tracy Melchior of The Bold and The Beautiful as well as David Elliott from JAG. Sponsor Kona Brewing Company will officially kickoff to its new bottles on the mainland with a giant sand sculpture built at the event on the shores of Newport Dunes created by Sand Guys, stars of the Travel Channel show "Sand Masters".
Who:·Standup for the Cure's Second Annual Fundraiser. 1,000 participants are anticipated toraise funds for the Orange County Affiliate of the Susan G. Komen Foundation.
Where:·Newport Beach, California at Newport Dunes on Back Bay Drive off Jamboree nearPacific Coast Highway
When:·Saturday, May 4 from 9:00 a.m. to 3:00 p.m.
What: Standup Paddleboard Clinic led by World Champions. Appearances by: Katherine KellyLang and Tracy Melchior from The Bold and The Beautiful and David Elliott from JAG.
Events:·Kid's race, 5K expert and fun paddle, live music, industry expo, free screenings for Breast, Skin and Colon cancer, SUP lessons and demos as well as a live and silent auction.
Every $125 raised will potentially save a life by enabling a mammogram. Entry fee for the event is $35per person for the event which takes place from 9:00 a.m. to 3:00 p.m. Top International paddleboard experts including Anthony Vela, Candice Appleby, Matt Schweitzer and Shelby Schweitzer will instruct attendees of all levels (from people that have never used a paddleboard before to more advanced participants). Irvine's Ruth Chris Steakhouse will provide lunch and Barefoot Wines and Kona Brewing Company will sponsor a happy hour with live music by Wheeland Brothers and Crimson Crowbar.
"We were thrilled with the success of the first event that raised more than $60,000 for our organization and are honored to have the event continue. Mammograms are vital for identifying breast cancer at an early stage, so this event really is a lifesaver," said Lisa Wolter, executive director of the Orange County Affiliate of Susan G Komen for the Cure.
The event will take place at Newport Dunes, visible from Pacific Coast Highway, and will provide breathtaking visuals of a sea of paddlers donned in pink for solidarity. "This is our second year and we've added new events to appeal to participants of all ages such as a kids' relay and a sand castle competition as well as free life-saving breast, skin and colon cancer screenings. Beer and wine during the happy hour can be enjoyed with two live bands – Crimson Crowbar and Wheeland Brothers," said Judie Vivian, volunteer and founder of Standup for the Cure. "We truly will, 'Have Fun and Save Lives!"she continued.
Last year's inaugural event set a Guinness World Record with more than 700 paddlers taking a Standup Paddleboard clinic led by Zane Schweitzer. Additional participating experts this year include Matthew Hughes, Kristin Thomas, Brennan Rose and Matt Becker.
Riviera Paddlesurf, Starboard and others will supply loaner boards and demonstrations for newpaddlers. Sponsors for Standup for the Cure's 2013 event include: Riviera Paddlesurf; Maui Jim; Kona Brewing Company; Barefoot Winery; Ruth's Chris Steak House; Ocean-Minded and Victory KoreDry.
"Standup for the Cure's May 4 event is an excellent opportunity for families, friends and survivors to get together, have a great day filled with fun while raising money and ultimately save lives by doing something they love," said event director Dan Van Dyck, whose mother is a 39-year breast cancer survivor.
Events include:
STANDUP PADDLEBOARD CLINIC taught by world-class Standup for the Cure ambassadors including Anthony Vela, Candice Appleby and the Schweitzer family. Other illustrious teachers include Matthew Hughes, Kristin Thomas, Brennan Rose and Matt Becker
SILENT AUCTION: Presenting Sponsor, Riviera Paddlesurf, has donated one of the limited edition Standup for the Cure paddle boards. Other items include SUP boards from Starboard, Boardworks, West Marine and JP Australia and Pink paddles from Kialoa along with Maui Jim sunglasses, and tickets to Disneyland and an Angels game. The live auction will include two fabulous paintings by renowned artist Wyland.
MUSICAL ENTERTAINMENT (2 live Bands):1) Wheeland Brothers — Two Southern Californian brothers who grew up in Orange County.They combine the cool attitude and summer time energy of reggae with the down-to-earth,
organic honesty of acoustic rock and ukulele lullabies. In 2012 Wheeland Brothers released their first album along with the music video for their first single, "Sand in My Sheets".
2) Crimson Crowbar — Band member Frank Simes, Musical Director for the Who, has recorded,toured and co-written songs with Mick Jagger, Stevie Nicks and David Lee Roth, among others and was a double Grammy nominee with Don Henley.
FREE CANCER SCREENING: Screenings for the three potentially treatable cancers are available during the event – Breast, Skin and Colon. Cancer specialists from UCI Cancer Centerand Komen supported Clinics will perform the screenings on-site.
YOGA PADDLEBOARD CLINIC: The hottest yoga style is on a paddleboard—a yoga practice carried out on paddleboards in the water. A combination of standup paddling and yoga is known for giving the body a "core" workout because of the added challenge of having to maintain one's balance while performing yoga poses. The clinic will be demonstrated by the Paddleboard Bliss team from Orange County.
FOOD AND DRINK: Irvine's Ruth's Chris Steak House will provide lunch; Happy hour with live music will be presented by Kona Brewing Company and Barefoot Wine to wrap up the day.
NEW ACTIVITIES: The 2013 agenda include a Kid's Relay and a Sandcastle Competition
"PINK" ATTIRE: Participants that register by May 1 will receive a complimentary custom PinkSUP Jersey from Victory KoreDry.
PARKING: All day parking is available at Newport Dunes for $5 per vehicle.
"Dry Foot" participants can take part in all festivities without getting on the water
In support of the cause participants can sign up as a team or individual through the Active Giving Portalat https://fundraising.active.com/event/StandupfortheCure2013
More information can be found at http://www.standup-for-the-cure.org/; via Twitter at @StandUp4TheCure; and on Facebook at https://www.facebook.com/StandupForTheCure
.